When it comes to wildfire preparation, there are several measures you should take to ensure your home is protected. No home is fireproof, but by taking extra steps and being smart about fires can help you be more prepared to face the unthinkable. According to Farmers Insurance, some ways you can immediately prepare your home against wildfires is to remove dead vegetation from plants and lower branches from tall trees. Make sure to also clear out gutters, roofs, and outdoor spaces of debris like leaves and twigs, and you should clear out window screens and attic vents.
Around your home, you should move firewood at least 30 feet from your house. Make sure to use roofing materials with the highest fire rating (Class A). Some other methods you should consider are:
At the edge of the roof, install metal angle flashing.
If the siding is combustible, install metal flashing where wood decking meets it.
Use multi-pane windows with tempered glass windows with screens.
Spray a fire-blocking gel coating on your home, out buildings, landscaping near buildings, propane tank, automobiles, and equipment.
Dampen buildings before evacuating (see: fire fighting water sprayer trailer).
Wildfire Home Defense Protection: 3 Zones of Wildfire Protection
In order to adequately prepare for a wildfire, you want to create a defensible space around your property. These defensible zones will cover at least 100 feet around your property. These defensible spaces or zones will be your layers of protection when a wildfire approaches your home, according to readyforwildfire.org. The first zone is closest to your home, and it is called the Immediate Zone, or Ember-Resistant Zone. It spans 0 to 5 feet. This is the most vulnerable zone, so don't store any combustibles in this area. This includes door mats, recycling, fallen leaves, trash, vegetation, and firewood. Basically, by keeping materials that could catch fire away from the outside of your home, you protect your home from wildfires.
The second zone, which spans 5 feet to 30 feet, is often called the 'Lean, Clean, and Green' area. This area should be free of dead vegetation, dead or dry grass, and pine needles. Make sure you trim your trees to keep branches at a minimum of 10 feet from other trees. Remove branches that hang over your roof and keep dead branches at least 10 feet away from your chimney. Remove things that could catch fire from under and around your deck and relocate your woodpiles.
The last zone extends 30 to 100 feet and is called the 'Extended Zone.' The extended zone can include space more than 100 feet from your property. In this area grass should be mowed down to a maximum height of 4 inches and fallen leaves should be removed. There is a caveat if erosion control is an issue in this area, some extraneous vegetation can remain. Check with local regulations and your local fire department for more information.
Once all that is taken care of, what else can you do? Planning for evacuation must be taken seriously, but there are also tools you can have on hand to add the additional protection that can make all the difference when exposure to wildfire appears eminent.

For more information on these wildfire home defense tools, keep reading or Contact Us for assistance.
Fire Blocking Gel for Your Home: How to Protect Your Home from Wildfire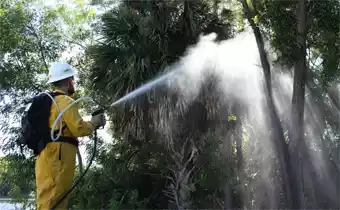 Fire blocking gel has had tremendous success in protecting homes against wildfires. Fire Gel is a fire retardant spray that coats the outside of your home, landscaping, propane tanks, equipment, and other items while the fire passes by. Made from a superabsorbent polymer, it holds more than its weight in water as the protective barrier. One gallon of fire gel will coat 500 to 700 square feet of surface. A ¼ inch of coverage is recommended when using Fire Gel as part of your wildfire home protection plan. Fire gel will protect your home against harm from fires as long as it is misted regularly and is not allowed to dry out. Fire Gel is nontoxic and won't harm you or the environment. To remove it, simply spray it with your garden hose.
Fire suppression gel works incredibly well for wildfire protection. It's easy to use and can be transported to wildfire zones quickly. Fire gel is also cost effective. While other fire retardants work with a water-to-product ratio of 1-to-5, fire gel mixes with a ratio of 1-to-99. For more information on how Fire Gel can help you with your wildfire home protection plan, give us a call at 863-261-8388 or Contact Us.
Fire Water Trailer for Wildfire Protection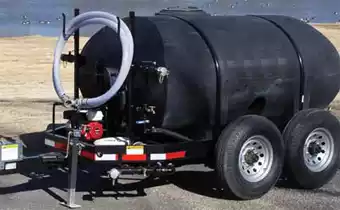 When you have a large property to take care of during wildfire season, making sure each corner of your land is safe can be a daunting task. A fire fighting trailer is a reliable fire suppression tool you that can also be used for many other purposes around the property. The fire fighting trailer comes in tank sizes of 500, 800, or 1025 gallons, depending on your water storage needs. The black tank is algae resistant and is built for rugged, off-road use. This allows the fire fighting trailer to be used on large residences and properties—even bustling farmsteads!
You can use a fire fighting water trailer for managing grass fires and hay bale fires on farms and fields. Prewetting during the dry season is easy with a fire fighting water tank trailer. You can have additional accessories like a fire hose for targeted spraying and an adjustable nozzle. For more information on different accessories and tools, Contact Us.
If you have questions about our sediment control products, please Contact Us.
Ways to Protect Your Home From Wildfires with a Fire Skid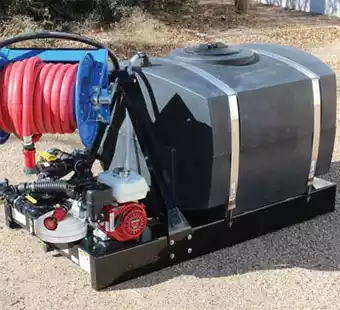 If you need a smaller wildfire home protection tool, then you might consider the skid-mounted fire fighting tank that can be used on the back of a truck or ATV or UTV. The 200 gallon fire skid unit can turn any pickup truck into a quick-response emergency vehicle. Skid units for fire fighting can come equipped with a 25' lay-flat fire hose, fire nozzle, 180-degree hose reel, quick coupled discharge, and pressure and gravity hose bibbs. Having a ready water supply on your property that can reach almost anywhere is so valuable, and it's one way to 'harden' your home against wildfires. For more information on other ways to 'harden' your home against wildfires, see this article.
This wildfire protection skid is powered by an Ace centrifugal pump and Honda engine. They also allow you to discharge water a higher volume to greater distances, making the fire skid unit perfect for spraying flames from a distance. When it comes to protecting your home from wildfires, and you want to make sure each inch of your property if taken care of, the skid-mounted fire fighting tank is easy to maintain and keep up with. Interested in more information? Give us a call at 863-261-8388 or Contact Us.
Wildfire Home Protection and You: House Wildfire Protection Takeaways
Keeping in line with the local regulations for protecting the areas around your home and following evacuation orders and plans is the most important thing when dealing with wildfires approaching your home. Create a wildfire plan of action and assemble your evacuation kit today. This Wildfire Preparation article will give you information on how to do that. On the way to being prepared for wildfires is the task of making your own plan of attack. Maintaining the zones around your home will mean taking into account the vegetation surrounding your home and what needs to be maintained. The tools mentioned above are only a few of the fire protection devices available to you. For more information on how fires can spread and what you can do, see this Wildfire Home Protection article by the University of California Division of Agriculture and Natural Resources. For wildfire news and information, see the news site Wildfire Today.
For more information about wild fire protection and how we can help you, please Contact Us.
See our One Clarion overview page for product applications to learn more about how our technical solutions can help your project.